Winter Safety Tips
By Children's Hospital Boston's Injury Prevention Program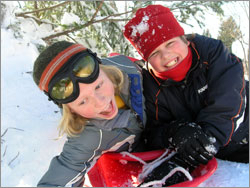 Whether sledding, skating, building snowmen or making snow angels, children love to play outdoors in the winter weather. With these basic winter safety tips, your child can enjoy a safe and fun winter.
Dress Warmly
• Dress your child in several warm layers of clothes.
• Pay attention to the National Weather Service's winter weather advisories regarding wind chill and rain. If it is damp or windy outside, hypothermia – which occurs when body temperature drops drastically below normal – can occur in temperatures as warm as 50 degrees.
• Set reasonable time limits on how long your children can play outdoors. Base these limits on weather conditions.
• Dress your children in bright colors if they are playing or walking outdoors in snowy conditions.
• Keep infants inside if it is colder than 40 degrees. Babies lose body heat faster than children and adults.
Use Caution Near Ice
Although it's tempting for kids to play or skate on a frozen pond, it's important that they never go on or near frozen water unless they have an adult's approval.
• Have an adult supervise children when they play near frozen lakes or ponds.
• Only allow children to venture out or skate on lakes and ponds that have been approved for skating. Look for signs posted by the police or recreation department saying that the ice is safe.
• Never assume that the ice on a frozen pond or lake will hold even a child's weight. Even if the ice is strong in one area, it might be unsafe in another spot
• Avoid dark ice or honeycombed ice (ice that has air bubbles or snow crystals trapped in it), which is weaker and may break under a child's weight.
• Ice on moving water, such as rivers and streams, is never safe.
• If someone falls through the ice, it's important to act quickly. The lower the temperature of the water, the faster hypothermia will set in.

• Call 911
• Don't go out on the ice after them. You may fall in, too, and be unable to make a rescue or get yourself out.
• Stay anchored on dry land and try to reach the person with a branch, rope or other sturdy item
• Throw something that will float to them.
• Tell the person in the water to spread their arms and hands out on the unbroken ice and kick their feet to help them keep their head above water and conserve energy.
Keep Clear of Snowblowers
Teach children that only adults should use snowblowers. Children can become seriously injured or killed by being caught in snowblowing machines.
• Never try to clear snow or debris from the machine while it is still running. Always stop the engine first.
• Never leave the machine running in an enclosed area. Carbon monoxide poisoning from leaving the engine running in an area such as a garage can cause deaths.
Prevent Winter Sports Injuries
• Children should wear helmets and eye protection while skiing, snowboarding and snowmobiling.
• Make sure your child's helmet is specifically designed for the activity he is participating in. Helmets should be well-fitted to prevent shifting or jostling of the helmet.
• According to recommendations from the American Pediatric Association, children under 16 years old should never operate snowmobiles. Children younger than 5 years old should never ride on a snowmobile, even with an adult.
• Make sure children know to stay on marked trails while skiing, snowboarding or snowmobiling.
Keep Free from Frostbite and Hypothermia
Children are more susceptible to frostbite and hypothermia than adults. Be aware of the symptoms and know how to treat your child if either occurs.

Frostbite
Frostbite occurs when soft tissue, usually in fingers or toes, freezes. There are several stages of frostbite. If severe enough, frostbite can require amputation, but most often no permanent damage will occur if the skin is warmed up carefully.

Symptoms of frostbite include:
• Numbness
• Blisters
• Soft or frozen doughy feeling to exposed skin
• Tingling and burning of frostbitten area upon re-warming
• Aching or throbbing pain upon re-warming
• Redness, swelling upon re-warming
• Blackness
What to do
If a child complains of numbness or pain in her fingers, toes, nose, cheeks or ears while playing outdoors, check to see if her skin is blistered, hard to the touch, or glossy. If so:
• Have her come inside immediately
• Have the child move the numb part of her body to increase blood supply
• Do not rub the skin to warm it up, as this can cause tissue damage
• Immerse the frozen skin in warm water. Make sure the water is warm but never hot so the tissue isn't further damaged
• Get medical help if the area stays numb after warming.
Hypothermia
Hypothermia occurs when too much heat escapes from the body and body temperature drops lower than the normal 98.6° F. While severe hypothermia can cause internal organ damage or lead to death, it is generally not something to be concerned about unless a person is trapped outdoors or in cold water for an extended period of time without proper protection.

Symptoms of hypothermia include:
• Shivering
• Numbness
• Muscle weakness
• Drowsiness
• Incoherence
• Lowered body temperature
• Slow pulse
What to do
:
• Call 911 for help
• Bring your child to a warm place
• Wrap your child in blankets to retain body heat
• Don't expose your child to any direct heat sources like hot water bottles, heating pads, radiators or fireplaces
Why Winter Safety is Important
Winter can be a fun season for children, but hospital emergency rooms and their doctors see too many children with head injuries, broken bones and other serious winter injuries. Avoid visits to your local emergency room by helping your child stay safe while having fun during the winter.


Children's Hospital Boston's Injury Prevention Program is committed to decreasing the incidence of injuries through community-based education efforts and resources. For more information go to https://www.childrenshospital.org/.
Herb's Tips and More
Excellent health articles whether you are looking for information or inspiration regarding preventive health or are dealing with a medical challenge.

Did you know that you can make soap, candles and lotion with your herbs?

Never take any herb identity for granted. The best way to be sure that you are using the right kind of herb is by buying it.