A Proper Ride for Your Stride:
Running Shoe Info & Basic Guidelines
By Heather Harmon, MPT, Optimal Performance Physical Therapy, LLC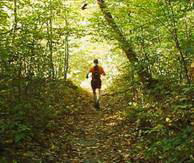 Fall running season has arrived!! Venturing out into the crisp, cool fresh air surrounded by the beauty of the transforming New England landscape is a refreshing change for many runners tired of sweating through the hot summer months. Also, fall marathons abound from the local Maine Marathon in Portland to more notorious big ones like the LaSalle Bank Chicago and ING New York City Marathons. For these reasons and more, there will be a lot of runners pounding the pavement and tearing up the trails this season&.no better time for a quick running shoe review!
Did you know???
The forces going through your body during running range from 2.5 to 10 times your body weight? These forces are absorbed by passive means (including the running surface and shoe) and by active means (including your muscles and tendons). Supporting your body with a proper pair of sport-specific running shoes (no more cross-trainers!) will make you more effective as a runner, and less likely to sustain common running injuries.
Finding a Shoe for You!
With a seemingly never-ending amount of marketing gimmicks and brand-name technologies, shopping for running shoes may seem overwhelming. However, if you take just a few simple steps, you ll be well on your way to finding the best shoe for you.
Keep in mind that there are basically four functions of running shoes protection, traction, cushioning and support. And when it comes to running shoes, function should supercede fashion & although the two are not always mutually exclusive. Understandably (and I have witnessed this many times while shopping at running shoe stores), metallic orange, flaming red or bold magenta color combos may not be your favorites, but when it comes down to it, it is smart to make your running shoe decisions based on fit and function, not just color and style!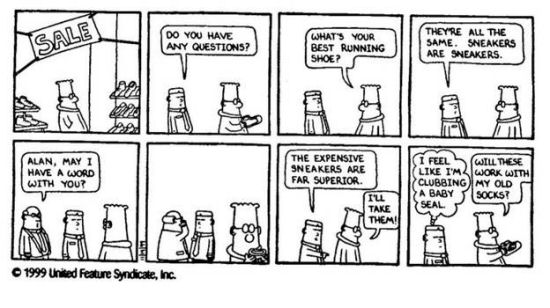 How to Begin
I would advise visiting a running shoe store with trained staff that is qualified to evaluate your needs as a runner. Be clear about your personal running style and goals for example, on what surfaces, how often and how far do you generally run? Have you had any injuries? Are you training for a long-distance race? Planning on breaking a 4-minute mile? Running just to keep your sanity? There are a number of reasons that people take up running running shoes are not reserved for those who run marathons or 4-minute miles, so be honest with the sales staff about your needs/expectations, and don t be embarrassed if you re a rookie!
Basic Tips
Running shoes should be replaced every 300-500 miles. Don t base your decision to replace your running shoe by the looks of the shoe, go by the mileage.
• Shop for new running shoes later in the day, because your feet expand as the day goes on.
• Make sure you have at least a finger s width space at the front of the shoe so your toes have plenty of room to move around.
• Bring socks that you plan on wearing during your runs. If you wear orthotics for running, be sure to bring those along as well.
• Ideally, take a little run in the shoes you are trying on to see how they feel when you re moving many running stores have a treadmill just for this purpose!
Simplified Shoe Guide for Specific Foot Types
There are 3 main foot types that are generally used to determine what shoes may be most beneficial for a runner. They are: 1. flat-footed/low-arch/pronated/flexible/planus (these terms are grouped because they basically refer to the same foot type), 2. neutral/medium-arch/normal, 3. high-arched/supinated/rigid/cavus. Be warned that your feet may be different one is often bigger than the other, and you may even have 2 different foot types one on the left, and one on the right! That is why it is recommended that you seek trained evaluation and advice when it comes to running shoes. For each foot type, here are the general rules of thumb:

Flat (low) arch foot usually indicates that you are an OVERPRONATOR.
• Consider a pair of stability shoes with dense mid-soles for support and heel posts on the inside to help reduce pronation
Severe over-pronators, over-pronators who are really tall or weigh more than 160 pounds should look to buy motion-control shoes

Normal (medium) arch foot indicates that you have the most common foot type, and you probably have a normal amount of pronation- which is necessary to absorb shock.
• You may want some moderate arch support in a neutral cushioned shoe, but basically you can wear just about any shoe that s comfortable.

High arch foot indicates that you are probably a SUPINATOR, or under-pronator. You have a more rigid foot, so you do not absorb shock as well.
• Look for shoes with a good amount of cushioning to help with shock absorption. You do not need stability components in your shoe.
Keep in mind that these are only basic guidelines meant to give you some information and a good starting place when you re looking for shoes. Again, skilled evaluation and advice is recommended, and you must honestly assess what feels best! Appropriate running shoes are important for injury prevention, and ultimately contribute to the longevity of your enjoyable participation in the sport. So take care to make the right decisions regarding footwear, then get out there and enjoy this beautiful season! Happy running!
Optimal Performance Physical Therapy is a wholistically-based outpatient healthcare service facility based in Scarborough, Maine. We treat orthopedic, sports medicine, surgical rehab and neurological patient populations. For more information about our practitioners, our treatments, our practice, and our mission please visit our website at www.oppt.com or contact us at 207-510-6500.
Herb's Tips and More
Did you know that you can make soap, candles and lotion with your herbs?

Never take any herb identity for granted. The best way to be sure that you are using the right kind of herb is by buying it.

Excellent health articles whether you are looking for information or inspiration regarding preventive health or are dealing with a medical challenge.