Digital Mammography, a Safer Choice for Some Women
By Johanna Irish, BSRT, Diagnostic Imaging at Parkview Adventist Medical Center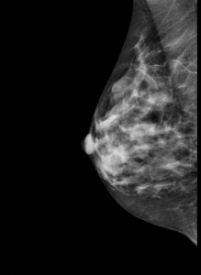 Until recently, there were no scientific data to prove that digital mammography held any medical benefit over conventional film methods. But a study recently published in the New England Journal of Medicine, The Digital Mammographic Imaging Screening Trial (DMIST), concluded that digital mammograms dramatically increased the detection of breast cancer in younger women and those with dense breast tissue. It was concluded that digital mammograms detected up to 30% more cancers in women who were pre-menopausal, peri-menopausal, under 50, or had dense breast tissue.
Digital mammography uses digital technology to create and store images in a computer database, which can lead to fewer records being lost or damaged. Digital mammography still uses X-rays to create the image of the breast, but requires considerably less radiation. Unlike a traditional film mammogram, digital requires fewer retakes because radiologists are able to electronically manipulate the image and take a closer look at specific areas of the breast. Another advantage is the computer itself. It can recognize suspicious areas on its own and call attention to it for the reading radiologist. Not only is the digital option safer, it's quicker, which boosts patient satisfaction.
The technology has been around for a little more than 5 years. General Electric made the first digital mammography machine to be FDA approved in 2000. Now, more imaging departments and centers are looking at investing in the technology, and most radiologists agree that film will soon become obsolete. Here in Maine, digital mammography is available at only a few hospitals. Parkview Adventist Medical Center, in Brunswick, began offering the technology in January.
So should a woman wait to get her mammogram until digital technology is available in her area? Not necessarily. Any test is better than no test. However, if a woman can get a digital test in the same time frame, she should remember that it does lower average radiation dose, offers quicker exam times and provides up to 30% better accuracy in women for whom film often misses early stage cancers. For more information about digital mammography call 207-373-2252.
Johanna Irish is a Certified Lead Mammographer at Parkview Adventist Medical Center in Brunswick. Please visit www.parkviewamc.org to learn more about our services and health education classes.
Herb's Tips and More
Did you know that you can make soap, candles and lotion with your herbs?

Never take any herb identity for granted. The best way to be sure that you are using the right kind of herb is by buying it.

Excellent health articles whether you are looking for information or inspiration regarding preventive health or are dealing with a medical challenge.