FASTER Trial Finds More Effective Way to Screen
For Genetic Abnormalities
by Melissa McPherson
Tufts-New England Medical Center and the Floating Hospital for Children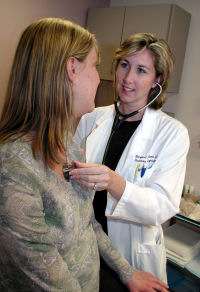 Researchers have recently found that the most effective time to screen for Down syndrome is during the first trimester. These results, published in the November 10 issue of The New England Journal of Medicine, will have a significant impact on prenatal care for women nationwide.


The FASTER (First and Second Semester Evaluation of Risk) trial was the largest clinical obstetric research study ever undertaken by the National Institutes of Health.
This trial tested 38,000 expectant mothers across the country. Screening involved a combination of maternal blood tests and ultrasound examination to diagnose Down syndrome and other genetic conditions. Currently, the standard when screening for Down syndrome is the measurement of three proteins produced by the fetus in a maternal blood sample taken during the second trimester. The FASTER trial was unique in that it compared the new testing methods to the current standard of care in the same pregnant woman.

The study found that combining the blood test with a nuchal translucency measurement ultrasound detected 87, 85 and 82 percent of Down syndrome cases for measurements performed at 11, 12 and 13 weeks respectively. British data on the combined screening was very promising, but until now, had not been confirmed by investigators in the United States.

Problems with the current second trimester method of screening include limited detection rate, frequent false-positive results and delays in obtaining information until late into the second trimester.

These results have enormous implications for the four million women who deliver babies each year in the United States. The results show that first trimester screening performs better than second trimester screening. In pregnant women who want diagnostic certainty, a chorionic villus sampling procedure could be performed as soon as an abnormal screening test result is found.

About Tufts-New England Medical Center
Founded in 1796 as the Boston Dispensary to care for sick and needy Bostonians, Tufts-New England Medical Center is the oldest health care facility in New England. It serves as the primary clinical and teaching affiliate of Tufts University School of Medicine. Tufts-NEMC is a world-class, academic medical institution that is home to both a full-service hospital for adults and the Floating Hospital for Children and has long been recognized as a leader in cancer care, cardiology, organ transplantation and pediatrics. Tufts-New England Medical Center was the only site in Boston to participate in the FASTER (First and Second Semester Evaluation of Risk) trial, which was designed and initiated at the Medical Center. For more information on Tufts-NEMC, access our web site, https://www.tuftsmedicalcenter.org/.

Herb's Tips and More
Did you know that you can make soap, candles and lotion with your herbs?

Never take any herb identity for granted. The best way to be sure that you are using the right kind of herb is by buying it.

Excellent health articles whether you are looking for information or inspiration regarding preventive health or are dealing with a medical challenge.