Your Child Has Been Diagnosed With Autism: Now What?
By Bernadette Murphy Bentley, Autism Care Coordinator; and Catherine Davis, MD, Developmental-Behavioral Pediatrics Fellow, Division of Developmental-Behavioral Pediatrics/ Center for Children with Special Needs, Floating Hospital for Children at Tufts-New England Medical Center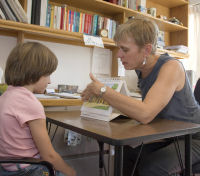 When a child receives a diagnosis of an autism spectrum disorder, parents often feel many emotions including sadness, anger, disbelief and guilt. Some parents are simply relieved that they finally have a name for their child's symptoms. Whatever your reaction, it is important to know that it is okay to experience any and all of those emotions. Receiving this diagnosis is not what anybody would choose for their child, and it is natural to feel overwhelmed and unsure about the next steps.
First of all, it is important to understand the diagnosis. Autism is a complex neurological condition and is classified as a "pervasive developmental disorder," which means that multiple basic functions of development are affected. Children with this diagnosis have difficulty with social interactions and verbal and nonverbal communication, as well as restricted, repetitive, or stereotyped behaviors or interests. These issues generally appear before the age of three years.
Autism is called a "spectrum" disorder because each person may be affected in different ways and with varying levels of severity. Your child may be given a specific diagnosis such as Autistic Disorder, Asperger's Syndrome, or PDD-NOS (pervasive developmental disorder-not otherwise specified), or your child may be described as having autism or being on the "autism spectrum." All of these descriptions include the same core symptoms of difficulty with social interactions and communication. Because of this variation, every child diagnosed with autism should have a comprehensive neuro-developmental evaluation to determine his or her specific needs with regard to appropriate management and therapy.
After diagnosis, it is important to begin aggressive intervention and therapy as soon as possible. If your child is under the age of three years, the Early Intervention program in your town may be available to provide services to him or her. If your child is over the age of three years, the Special Education department in your public school system is the place to go for assistance.
Programs with specialized behavioral and educational techniques have been developed to teach children with autism social, communicative, cognitive and adaptive skills so as to maximize their learning and functioning. Many children also benefit from a behavioral assessment and behavior modification plan to develop strategies to increase desired behaviors and reduce inappropriate ones. Some children also require speech, occupational, and/or physical therapy.
Although there is no medication specifically to treat autism, some children benefit from medication for symptoms such as hyperactivity, anxiety, compulsive behaviors, or aggression. Talk to your child's physician to determine if your child is a candidate for medication. If you are interested in pursuing alternative medicine approaches to autism, also discuss this with your child's medical providers.
One of the best ways to feel empowered is to do research about autism spectrum disorders. Being educated about your child's diagnosis can help you feel and be more in control of his or her future. Ask your child's physician to recommend appropriate resources and read them when you feel ready. You do not have to become an expert in the field, but should learn enough so that you understand what the professionals are discussing about your child.
Other essential resources include the state agency where you live that provides support to children with disabilities, your state's Department of Education, and your local autism center. Visit their web sites, get on their mailing lists, and find out what types of programs and information they offer. Also learn as much as you can about the laws that pertain to children with special needs in general, including autism spectrum disorders. Your child may also be eligible for financial assistance from your state's health insurance program or the Social Security Administration, so it is important to find out what agencies serve your area and whether your child qualifies for monetary support.
As you begin this journey with your child, it is important to know that there are many exciting advances in the care and treatment of children with autism spectrum disorders. Take advantage of the many resources available to help your child achieve his or her maximum potential and to help your entire family as well.
Websites
The major national parent group for autism is The Autism Society of America
https://www.autism-society.org/
The Autism Information Center at the U.S. Department of Health and Human Services Centers for Disease Control and Prevention provides a wide variety of helpful information.
https://www.cdc.gov/ncbddd/autism/index.html
Every state has a Parent Training Institute (PTI) that provides information and support to parents of children with special needs.
For Massachusetts residents, the PTI is the Federation for Children with Special Needs https://fcsn.org/
A great site for special education laws and advocacy for children with special needs is https://www.wrightslaw.com/
Apply for disability benefits at the Social Security Administration https://www.ssa.gov/applyfordisability/child.htm
Books

Could It Be Autism? A Parent's Guide to the First Signs and Next Steps by Nancy D.Wiseman, Broadway, 2006.
http://www.firstsigns.org/.
About Tufts-New England Medical Center and the Floating Hospital for Children
Tufts-New England Medical Center is a world-class academic medical institution that is home to both a full-service hospital for adults and the Floating Hospital for Children. It has long been recognized as a leader in cancer care, cardiology, organ transplantation, neurosciences and pediatrics. Founded in 1796 as the Boston Dispensary to care for sick and needy Bostonians, Tufts-NEMC is the oldest health care facility in New England. The Medical Center is the principal teaching hospital for Tufts University School of Medicine. The Floating Hospital for Children, Tufts-NEMC's full-service children's hospital, began as a hospital ship more than a century ago. The 128-bed Floating Hospital provides comprehensive inpatient and outpatient services in every area of medical specialization. The Center for Children with Special Needs (CCSN), founded at the Floating Hospital in 1989, provides innovative, caring, and comprehensive services to children with developmental, neurological, learning, and behavioral disorders, and their families. For more information on Tufts-New England Medical Center and the Floating Hospital for Children, visit our web site at https://www.tuftsmedicalcenter.org/.
Herb's Tips and More
Never take any herb identity for granted. The best way to be sure that you are using the right kind of herb is by buying it.

Did you know that you can make soap, candles and lotion with your herbs?

Never take any herb identity for granted. The best way to be sure that you are using the right kind of herb is by buying it.