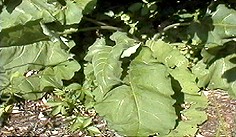 Plant the rhubarb in well-drained rich soil in a sunny location. Dig the ground deeply. Plant with the crown upwards, 4" (10 cm) deep and 36" (90 cm) apart. Water generously after planting and in dry spells. When the plant begins to grow in spring add fertilizer.
The rhubarb is easily propagated. Devide into 3 or 4 pieces after a year. In winter they remain in the ground.
The rhubarb can grow up to 3 feet high.
The rhubarb root contains vitamin A, B, C, and P.
You can make jam, pudding or a pie out of the rhubarbs.